Current Award Winner
David F. Chang, M.D.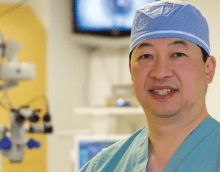 Eye Mission of the Pacific is proud to present Dr. David F. Chang as the recipient of the Philip M. Corboy M.D. award for Distinguished Service in Ophthalmology for 2023. Dr. Chang is the 38th awardee of this honor which was first given in 1986.
The Philip M. Corboy, M.D., Award for Ophthalmology was established in 1986 and has been presented at the Hawaiian Eye Meeting each January since then. The Award became the Philip M. Corboy, M.D. Memorial Award in 1992.
Thirty-seven awards have been presented to the most deserving in ophthalmology. One of the best-known American ophthalmologists, Dr. Chang was presented the award during the 2023 meeting held on the Island of Kauai this January.
David F. Chang, MD, is a graduate of Harvard College and Medical School and is a clinical professor at the University of California, San Francisco. Dr. Chang is a past president of ASCRS and has been on their Executive Board since 2009. He is the past chair of the AAO Cataract PPP Panel and the AAO Annual Meeting Program Committee.
Dr. Chang has chaired the ASCRS Foundation since 2015 and received the AAO Humanitarian Service Award in 2019 and the Aravind Venkataswamy Award in 2020. Dr. Chang has received the highest honors for a cataract surgeon from the following international societies: AAO (Kelman Lecture), ASCRS (Binkhorst Medal), ESCRS (Ridley Medal), APACRS (Lim Medal), and the International Council of Ophthalmology (Krwawicz Gold Medal). His Corboy Award lecture is entitled: Our Collective Challenge to
Reduce Surgical Waste.